The music department's University Orchestra Concert will feature the public debut of a handcrafted violin generously funded by alumna Donna Herndon. Murray State is central in the story of this beautiful instrument and the family who brought it to the music department.
Herndon is a Murray native. She and her late husband Clarence "Woody" Herndon (1943-2017) attended Murray High School and Murray State together and later married in 1963. She graduated in 1964 and later returned as director of alumni affairs from 1981 to 1992. Even past her time at the University, Herndon has remained an involved and generous citizen of Murray.
Herndon and her family not only have a history of community and University engagement but a long-time appreciation of music and string instruments as well. Herndon recalled hearing a University orchestra performance in her youth that surprised her with the talent and skill at Murray State. Woody Herndon played the viola while at the Murray Training School, where he attended before transferring to Murray High School. He eventually passed his viola down to their grandson, Roger Graves.
 Graves began his college education on a euphonium scholarship before learning to play strings on University instruments. Herndon said she was surprised to hear he had auditioned for orchestra when he called her during his first week.
"I asked, 'Playing what?' and he said, 'Bass,'" Herndon said. "I said, 'You don't play bass.' He said, 'Well, I do now.' And he learned to play bass here on a Murray State instrument."
Graves worked with instrument technician Scott Thile to recondition instruments including his school bass and his grandfather's viola. Graves maintained a passion for instrument repair throughout his continued music education at Ball State University and the University of Texas, where he received a doctorate in music arts. 
Graves then went on to train as a luthier— a string instrument maker— at Academia Cremonensis in Cremona, Italy during 2020-2023. He spent a year handcrafting the violin that now belongs to the Murray State music department.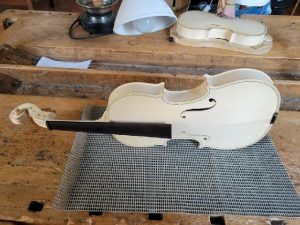 Herndon said she got the idea to gift the violin from a conversation at a Louisville Orchestra performance. After telling music department faculty members Kala Allen-Dunn and Mike D'Ambrosio about Graves' work in Italy, she realized how she could give back to the University. With the money from her husband's Individual Retirement Arrangements, she made a charitable donation of $10,000 for the purchase of the handcrafted violin. The instrument was dedicated to the memory of Roger Herndon, son of Donna and Woody, who died in 1991 during his service in the military. 
"I got to thinking we can do this in the memory of our son, Roger. It would benefit Murray State, it would benefit Roger Graves, and it would be a special thing for the music department to have," Herndon said. 
Graves' violin is far from a beginner's instrument, so he told Herndon it would have to be played by someone fairly advanced. She assured him that Lydia Sahawneh, Murray State senior and violinist, would certainly meet his expectations.
Sahawneh has been a student on campus for around two years, but she is a senior by advanced credit hours. She was homeschooled in Paducah and took dual credit classes through the Western Kentucky Community and Technical College. Sahawneh is a double major in music and nutrition/dietetics and has played violin for Murray State for seven years and led as concertmaster for three.
Sahawneh says her skill with violin is a result of persistence, not innate talent. Her passions align more with her nutrition major, but she has never given up on practicing violin and piano. This committed work ethic brought her from a beginner to a concertmaster, helping her grow as a musician and refine her leadership skills. 
Herndon first heard Sahawneh play at a wedding. She said she knew Sahawneh was skilled enough to do Graves' work justice. Herndon said Graves was very pleased with Sahawneh's playing when the three met. They were excited to learn that the 2023 orchestra concert would include a violin solo in a Vivaldi concerto, which provided the perfect opportunity to showcase the new instrument.
"I'm very grateful for the opportunity [to play Dr. Graves' violin] and very, very blessed," Sahawneh said.
"To be able to bring this instrument to Murray State is a very gratifying, rewarding thing for me, and I know my husband would be equally happy that this has happened," Herndon said. "We just want to see the string program grow… I want music students to be able to benefit from what's here on this campus."
The University Orchestra Concert will be held at 7:30 p.m., Wednesday, Nov. 15 inside of Lovett Auditorium. Admission is free and open to the public.