"Crank It, We're Doomed," the latest album by singer-songwriter Todd Snider, is an unconventional release, even among a discography that is far from predictable.
It was recorded in 2007, set to follow two career-defining albums for Snider, "East Nashville Skyline" and "The Devil You Know". At a pivotal moment in his career, Snider decided to shelve the album.
"At the end, I was torn," Snider said in a Facebook post. "I felt like not only did I have all these story songs, sort of normal songs, there also were all these protest songs. And really that is where I lost the plot. I had too many scenes in the movie, and I had too many songs. It was all over the map. But I also remember feeling like it wasn't done either. Like it needed more songs."
The master recordings of the album were thought to be lost until recently. Upon relistening to the album with 16 years of hindsight, Snider and his team decided that the album gave insight into a significant era of his career and should finally see the light of day.
Snider fanatics, a group I admittedly belong to, will recognize much of the material on the album in some form. Most of the songs were repurposed on what would be Snider's next three albums of original material, "Peace Queer," "The Excitement Plan" and "Agnostic Hymns & Stoner Fables." 
In some cases, the songs are identical, or the differences are hardly noticeable. Some songs were just given an alternate title while others sound completely different aside from the lyrics.
After listening to "Crank It, We're Doomed," I can understand Snider's concern about the album being too scattered. It certainly seems messy compared to the album that was eventually released in its place, "Peace Queer," which I consider his strongest work in terms of creating a cohesive, focused album. The sporadic nature of the album is further complicated by the fact that I have heard the majority of these songs before in completely different contexts. It's challenging to judge songs that I've listened to for years, whether they are wildly altered or not, against a few that I'm hearing for the first time. 
The result feels almost more like a Todd Snider playlist than a Todd Snider album, which may very well make it more fit for release in the streaming age than it would have been upon its initial recording 16 years ago. Despite any doubts about its merit as a cohesive album, there isn't a single song I don't enjoy.
The album opens with "From a Dying Rose," a poetic personification of the United States and its reputation. It has been a standout track to me since I first heard it on Snider's war-focused 2008 album "Peace Queer" with the alternate title "Dividing the Estate (A Heart Attack)." While the song is unchanged as far as I can tell, it has more resonance and feels more in place as the sixth song on that album than it does as an opener here. Regardless, I think the song shows off Snider's songwriting ability at its best.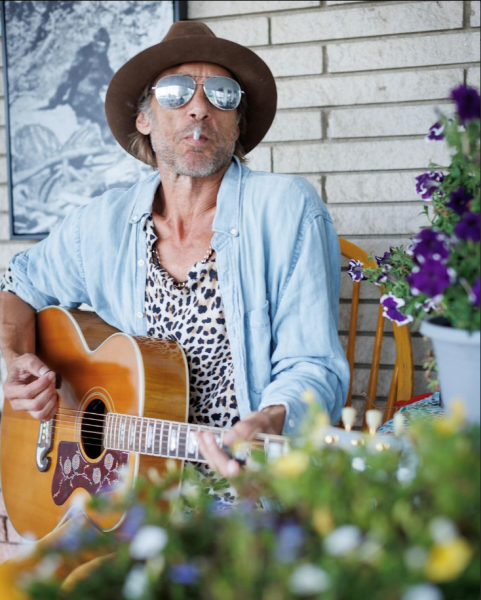 "Juice" is exclusive to this album except for a line Snider later used in the song "Too Soon to Tell." It's a rock 'n' roll ode to misbehavior that includes many of the hallmarks of Snider's work: humor, antiauthoritarianism, and references to East Nashville landmarks. It's a lively anthem that comes the closest of any song on the album to establishing its tone.
"Handleman's Revenge," which appeared on "Peace Queer" as "Stuck On The Corner (Prelude to a Heart Attack," is another Snider song I've loved for years. It brilliantly portrays the mental anguish of a man trying to live up to the American ideal of success and the emptiness that goes along with it. 
"Don't Tempt Me" is a duet co-written and co-performed by Snider and country music legend Loretta Lynn and appeared previously on "The Excitement Plan." Snider and Lynn's chemistry, despite their vastly different personas, makes the song a lot of fun, especially Lynn's rejection of his advances. On rerelease, the song serves as a reminder of Lynn's great talent a year after her passing. 
"The War on Terror" is another brilliant examination of the United States that appeared on "Peace Queer" as "Is This Thing On?" along with an acapella version titled "Is This Thing Working?". Just like "From a Dying Rose," I think the song found a much better home on "Peace Queer," but it's another example of Snider at his best.
"America's Favorite Pastime" is based on the true story of Pittsburgh Pirates pitcher Dock Ellis throwing a no-hitter under the influence of a certain three-letter substance in 1970. The instrumentation differs from the version that appeared on "The Excitement Plan," but not drastically so. The trippy little story song fits the chaotic nature of this album well.
"Doll Face" also appeared on "The Excitement Plan" and features slightly different instrumentation on this album. The song is narrated by a tree as it is cut down, turned into a newspaper, thrown in a landfill and waits for the day when it believes it will grow again. I assure you the concept works better in the song than in my sentence-long description.
"But Seriously Folks" is another song exclusive to this album. It's a gentle folk tune with a narrator begging those he meets to "take it easy" on him. From the title, I'll go out on a limb and assume it was a plea from Snider to hostile audience members. Snider has a gift for expressing neuroticism through his lyrics and this is a strong example.
"West Nashville Grand Ballroom Gown" is a cover of a Jimmy Buffett song that appeared in a slower rendition on Snider's album "Agnostic Hymns & Stoner Fables." While I prefer the version on that album, this version is great as well. The song showcases a side of Buffet's songwriting most people are unfamiliar with, and no one is better equipped to sing a Nashville-themed Buffett B-side than Snider. It's another song that's made even more poignant due to its writer's recent passing.
"Mercer's Folly" appeared on Agnostic Hymns & Stoner Fables as "Big Finish." The instrumentation differs significantly here with "Big Finish" leaning more towards blues and "Mercer's Folly" more folk. I think the regret-laden lyrics lend themselves best to the blues version, but this is a worthwhile variation and the first repurposed song on the album that feels like a major departure from what I've heard before.
"What Made You Do It" is the final song that was not repurposed on another album and is my favorite of that group. It's a dark, sparse character song about a man asking a murderer to confide in him. Because Snider is so gifted at inserting humor into his songs, I always find it interesting when he chooses to exclude it. The result is unnerving.
"The Last Laugh" is another track filled with inner turmoil. The version on this album has brighter instrumentation than the version that appeared on "The Excitement Plan" as "Last Laugh," but I think both work equally well in their own ways.
"Mission Accomplished (Because You Gotta Have Faith)" is the last track that ended up on "Peace Queer." It's a playful yet poignant portrait of a reluctant soldier. It's another example of a song that fits brilliantly on that album but adds to the confusion here.
"Slim Chance is Still a Chance" sounds drastically different from "Slim Chance," which appeared on "The Excitement Plan." While the previously released version features a folk sound typical of Snider's discography, the instrumentation on this version borders on surf rock. It's certainly an interesting direction, but I prefer the path the song eventually took.
"Good Fortune" was a very strong closer for this album. While the instrumentation differs from the version on "The Excitement Plan," the major change is the addition of a brief vocal feature from Kris Kristofferson. Hearing two of my favorite singer-songwriters on the same song is a special moment, especially considering that Kristofferson's battle with Lyme disease has taken him away from creating new music and performing except for very limited appearances. Any 'new' music featuring him is a gift.
"Crank It, We're Doomed" is a difficult album to review because of the material taken from it over the years. I think Snider was right to shelve it, not because it's bad by any means, but because the three albums it ended up contributing to are stronger. That being said, there is an excellent collection of songs here.
For Snider fans, this album is a fascinating piece of his history as an artist and contains enough new and alternate material to be a necessary part of your collection. For those unfamiliar with Snider's work, this album acts as a sampler of the different directions his music can go, though a live album like "The Storyteller" is probably the best introduction.