Five games into the 2023 season, Murray State's football team has matched its win total from the 2022 season, when the Racers went 2-9. 
Fans knew before the start of the season that it would be challenging, especially since the Racers were joining the Missouri Valley Football conference, which has become the SEC of FCS football.
What people maybe didn't expect was more than one or two wins this season. After winning the first game against Presbyterian College and their first MVFC game against Indiana State, the Racers are looking better than their last season.
Their only three losses have been games they were expected to lose, those being against the University of Louisville, Middle Tennessee State University, and South Dakota. Louisville (FBS) and South Dakota (FCS) are both ranked in their respective subdivisions.
I would argue the Racers have looked solid over the season, especially on offense. I know we've talked about it all season, but the return of redshirt sophomore quarterback DJ Williams has proved to be great for the offense.
Across the first five games, Williams has completed 60% of his passes for 686 yards and five touchdowns, while throwing just one interception all season, which was in his last game against South Dakota. 
Some may question why his yards or touchdowns aren't as high, but that's because Head Coach Dean Hood has put an emphasis on the run game this season. Three players have rushed for 90 or more yards this season, including Williams, redshirt junior running back Cortezz Jones and junior running back Kywon Morgan.
Jones leads all rushers with 296 yards and three touchdowns. As a whole, the rushing offense has a combined 757 yards and five touchdowns, spread across 13 different players.
All in all, the Racers have scored 92 points so far this season, with a season-high of 42 points in their first game of the year.
So if I'm talking this good about the team so far, what seems to be the problem? In short: defense.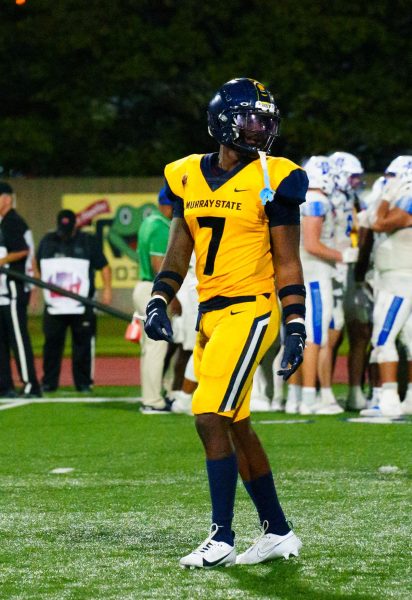 I'm not saying the Racers' defense has played terrible. They have shown signs of greatness so far this season. They forced a pair of interceptions against Louisville, had a pick-six and forced a safety against Indiana State and have five interceptions total this season. They also have 318 total tackles this season.
Where does the problem lie on the defense? First, the pass rush. Or rather, the lack thereof.
In total this season, the Racers have three hurries on opposing quarterbacks. Yes, you read that correctly, three quarterback hurries across five games. On top of that, the Racers have sacked the quarterback a grand total of five times, resulting in a loss of 35 yards.
Granted, the Racers' offensive line has only allowed four sacks this season, which speaks to just how good the offense has looked at times. But QB hurries and sacks are two stats you would like to see higher, as they have a bit of a trickle-down effect for passing offenses.
Okay, so the Racers aren't getting sacks and can't get to the quarterback. The defensive backs should be stepping up to hold down the rest of the defense, right? Well, not quite.
As previously mentioned, the Racers have five interceptions this season, averaging one per game. On top of that, they have 19 pass breakups, so nothing to really scoff at there.
However, the defense has allowed 1,130 passing yards and six touchdowns in five games. How many do the Racers have? Across three quarterbacks, the offense has thrown for 839 yards.
That's the pass defense, but what about the rushing defense? Murray State's defense has allowed 1,116 rushing yards and 17 touchdowns. The Racers' offense has rushed for 757 yards and six touchdowns.
Am I saying the Racers would have won another game if their defense had been better? Not really. As I mentioned earlier, the three losses were games they weren't really supposed to win. It's their first season in a tough conference, and through two conference games, they have probably exceeded some people's expectations.
What I am saying is a game like the Middle Tennessee State game could have been a lot closer, or the Indiana State game could've been more of a blow-out rather than a close game in the end.
Looking forward, games like Missouri State, Illinois State and North Dakota (not North Dakota State) are winnable games. What will be the difference-maker? If the defense can step up or not.
Murray State football has a lot of talent on the team this season. Injuries have held the Racers back over the last two years, but this season, they have a mostly healthy squad. You can say this is a feeling-out year, that it's the first year in the conference. While one statement is true and there's an argument for the other, I think fans should look for a bit more than what they have gotten.
The Racers have the potential to make noise over their next six games. The hope for those games? For the Racers to go 3-3. I think it's possible. I'm sure the players think it's possible. What's stopping them? It's time for Murray State to go out and show why they belong in the MVFC.