Story by Blake Sandlin
Interim Editor-in-Chief
For the past two seasons I've spent my Thursdays, Saturdays and virtually every day in between covering Murray State's men's basketball team as a beat writer. Though it appeared from the beginning that the program had potentially seen its best days after the heralded careers of Isaiah Canaan and Cameron Payne, these past two season have shown me that this program has plenty more to give.
After all, just two years ago Murray State blew a streak for consecutive winning seasons that had stood for 29 seasons. The year prior, the team barely finished above .500. By all indications, I was stepping into covering a program that was 33-31 the last two years, clearly struggling to attain the enormously high expectation set by the teams before it.
Two OVC regular season titles, two OVC Championships and two NCAA Tournament appearances later, it's safe to say my presumptions were wrong, and we're all better because of it.
In this season in particular, I've witnessed abundantly more highs than lows, so I'd be remiss if I didn't commemorate the best of the best. Look out Buzzfeed, here's my top 10 moments of the 2018-19 season.
10) The year of the air guitar: The air guitar celebration was first introduced by sophomore guard Ja Morant during an emotional comeback win against Eastern Kentucky. Since then, it took on a life of its own for the team, becoming a trademark for the squad during big offensive stretches and providing the perfect harmony for a team that finished 28-5 this year.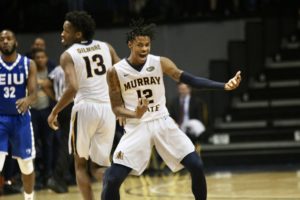 9) Morant claiming a life: No list is complete without the mentioning of Morant's freakishly Ja-dropping (yes, I know it's overplayed) dunk over UT Martin. There's literally no other way to describe this gravity-defying feat. We were all overcome by flashes of Vince Carter when Morant cleared the head of unsuspecting UT Martin defender Quinton Dove, and in doing so he etched his name into the national conversation for good, despite having another boisterous slam over Alabama weeks earlier.
Ja-dropping.

(?: @MSURacers) pic.twitter.com/L9XdUVKdmY

— MSU Sports News (@MSUSportsNews) January 11, 2019
8) OVC Tournament home-court advantage: Since the Ford Center became the home of the OVC Tournament last season, Murray State fans must have unanimously concluded to make it their second home. If you were at the event this year, you know exactly what I'm talking about.
Even after two years, the unwavering support Murray State fans dedicate is probably the most staggering. It's literally unprecedented in the OVC, and likely in the majority of mid-major schools, as well.
To recap, two CFSB Center attendance records were broken this year in games against Belmont and Austin Peay, and the crowd at the OVC Tournament broke records on back-to-back nights. The OVC Championship crowd numbered 10,525 strong to set the largest-ever neutral site attendance record, and let's just say most of those record-breakers were wearing navy and gold.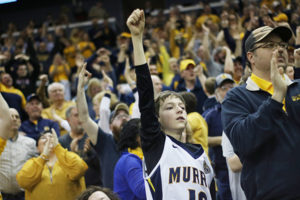 7) 'Downtown' Tevin Brown bursts onto the scene: Freshman guard Tevin Brown ingratiated himself with Racer fans from the start, hitting five threes in the Racers' season opener against Wright State, but it was his monumental game against UT Martin – the same game Morant baptized a defender – where he tied the school record of nine threes that reassured Murray State that they would have a reliable marksman on the team for years to come.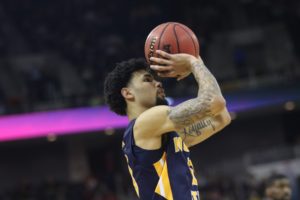 6) Devin Gilmore and Brion Whitley- This year, there was always a game inside the game, and that game was bench celebrations. Countless times I glanced over to the bench after an awe-inspiring play, only to see sophomores Brion Whitley and Devin Gilmore in absolute hysterics on the sidelines, hands-on-head, dancing and yelling. No player had more energy and enthusiasm than Whitley and Gilmore, and it was evident every night.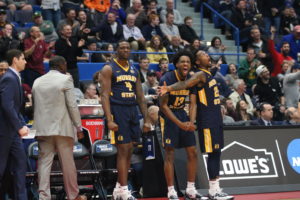 5) Cowart's emergence- It's hard to believe junior forward Darnell Cowart was playing JUCO basketball last year. The junior was slow to adjust to the college game early in the year, frequently getting his shots blocked by larger defenders, but as the year progressed he evolved into a reliable low-post scorer with the footwork of a gazelle. That translated into 10.3 ppg and 6.3 rpg. That output is returning next year, and so is his patented "meathook."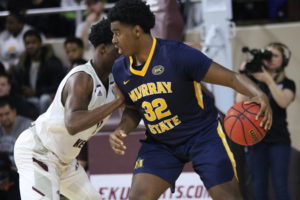 4) Ed Marlowe's press conference questions- Pride of The Paducah Sun's sports section and former sports writer of The Murray State News, Ed Marlowe has struck up quite the fun-loving relationship (I think) with Murray State Head Coach Matt McMahon over the years.
Marlowe attempted to capitalize on this relationship multiple times in press conferences throughout the season, inquiring on topics as trivial as McMahon's Valentine's Day plans, to which he stared blankly at Marlowe for what felt like an eternity before another reporter asked a question.
Or there's the time he asked about the "catharsis" of winning a championship, and McMahon responded by asking for a definition. McMahon has even restarted a press conference before because he took too long to articulate his question.
McMahon is constantly looking for a chance to taunt Marlowe with his sarcastic quips any chance he gets, which has led to his affectionate nickname of "Hall-of-Shamer."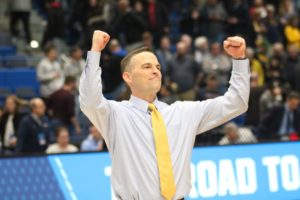 3) Celebrity shout outs- If you'd have told me I'd be recounting a season where Murray State caught the attention of WWE legends Triple H and Ric Flair, NFL greats Patrick Mahomes and Larry Fitzgerald or NBA superstars like Magic Johnson, Kevin Durant or Stephen Curry, I'd naturally be cynical. Nevertheless, Murray State and Ja Morant received praise from all, making for a whirlwind of a year that captured the hearts of America in March.
Stars are out. pic.twitter.com/0k5GE3fYlc

— Blake Sandlin (@Blake_Sandlin) March 9, 2019
Wishing The Murray State Racers The Best Of Luck Tonight Against Florida State! Much Respect For Coach McMahon And The Great Ja Morant, THE MAN In College Basketball! WOOOOO!

— Ric Flair® (@RicFlairNatrBoy) March 23, 2019
They got a squad to not just him. https://t.co/UznuSdcclH

— Patrick Mahomes II (@PatrickMahomes) March 21, 2019
2) Busting Brackets- Oh yeah, Murray State won an NCAA Tournament game, too. The Racers wreaked havoc on brackets everywhere by pulling off the infamous 5-12-seed upset that frequents March Madness. The win 83-64 over Marquette marked the largest margin of victory the Racers have ever recorded in the NCAA Tournament, and signaled the fourth NCAA Tournament game win in Murray State history.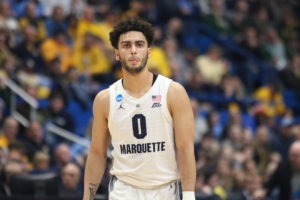 1) Morant Mania- As historic as Murray State's colossal win over Marquette was, it couldn't have come to fruition without the play of No. 12. Murray State fans saw the potential as early as his first game as a Racer, when Morant recorded 24 points, nine rebounds and six assists in an exhibition win over McKendree University.
He was still relatively unknown coming into the 2018-19 season, but he quickly announced his reign over college basketball with a 38-point showing against Alabama and a slew of highlight reel finishes along the way.
He's the first player in DI history to average more than 20 points and 10 assists in a single season, and he became Murray State's all-time leader in career assists with 532 and the single-season points leader with 808.
The media circus that has justifiably followed the star sophomore throughout this season would be enough to break the average 19-year-old kid.
Every week he was fielding an onslaught of interviews from major media outlets while managing class and team responsibilities, and through all the ensuing chaos he always made time for those who mattered – his family, his teammates and the winding crowds of fans that waited for autographs and photos with him after every game.
His circumstances have changed since he arrived on campus, but his humility and grace in response has remained unchanged. Morant has embodied the spirit of Murray State this season, and no matter if he falls to No. 2, No. 3 or No. 4 in the NBA Draft, he'll always be the No. 1 memory when Racer fans look back on this Murray State season packed with unprecedented accolades and notoriety.
And to think, I thought the Racers' best days were behind them.