Non-conference no more: Grading the Racers through 11 games
Story by Blake Sandlin
Sports Editor
It seems premature, but we've finally reached the first major checkpoint for any college basketball program with the conclusion of non-conference play.
For Murray State's men's basketball team, reaching that milestone with a 9-2 mark means there's plenty to be excited about, but as Head Coach Matt McMahon is quick to remark, it hasn't been easy, and there's still plenty of season left to be played.
"I think we have a great bunch of guys who are committed to each other," McMahon said. "They're about the right things; they love Murray State…[9-2] is a solid record, but it hasn't been easy either. It hasn't been smooth sailing. We've dealt with some adversity…There have been plenty of challenges along the way, but I think our guys have handled those in the right way, and we're just moving it forward."
Eleven games, 783 points and a slew of highlight reel caliber plays later, the Racers have shown few signs of deceleration from the thrilling style that landed them in the NCAA tournament last season.
Admittedly, there are obvious flaws from a year ago that have caused Murray State to stumble at times against more formidable opponents, but those flaws have not been so pronounced as to cause the team to completely fall flat as it approaches the portion of its schedule that bares the heaviest post-season implications.
So before any of those games are played, I'll take a look at how the Racers have fared to this point and grade those areas accordingly.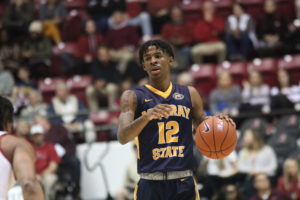 Offense: B
Strengths: Transition offense, ball movement
Weaknesses: Turnovers, Reliable post presence
Maybe it's trivial to nitpick the Racer offense given their 9-2 record. In fact, they have won all of the non-conference games they were expected to win, and even stolen a few where they weren't – Missouri State and Southern Illinois University-Carbondale.
Nevertheless, there are several areas where Murray State has struggled thus far. The first, and probably the most pressing at this moment, is the team's lack of a reliable big man. The loss of senior forward Anthony Smith obviously threw a wrench into the Racers' game plan early, leaving them to experiment on the fly with players like forwards Darnell Cowart and KJ Williams.
Both have shown flashes of promise as of late, Cowart especially in his 13-point, four-steal showing at Auburn University, and Williams with his 16-point, five-rebound night against Bethel University. The key to both players is consistency, as each have struggled to establish a rhythm offensively on a sustained basis.
I don't believe the Racers necessarily need a big man to carry them – they have Morant for that. What they do need, however, is a player who can serve as a confident, reliable finisher when Morant is facing double teams, and someone who can pick up the rebounding load. It will be interesting to see how the coaching staff handles Williams and Cowart's minutes going forward.
The turnover totals for the Racers has prompted some concern to this point, with the team averaging 13 a game. In the first three DI games of the season, Murray State averaged 18 turnovers per game (10 against Spalding University). Since those games, the Racers have trimmed that number down to 11.5 turnovers per game, less than the 12 the team averaged last season en route to an OVC Championship.
Much of that improvement can be attributed to the improved decision making of Morant. After a season high of 10 turnovers against Alabama and two games of seven turnovers before that, Morant has gone on to average just 3.8 in the seven games after. The Racers' sloppiness with the ball appears to be trending downwards.
These weaknesses haven't overshadowed how effective the Racers have been in transition this year. It seems like every game the Racers record some sort of acrobatic marvel on a fast break, and the probability of seeing an alley-oop connection between senior guard Shaq Buchanan and Morant is practically a certainty. This is a strength that will carry the Racers through conference play.
As is expected when you have the country's leader in assists per game in Morant (9.6 apg), passing the basketball is a pivotal fixture in the Racers' offense. Morant commands heavy pressure as a result of his offensive ability, which allows him to find his teammates.
That strength has radiated to his teammates as well, as defensive breakdowns that come as a result of Morant's unreal vision allows for an unselfish Murray State team to easily find the open man. The Racers are ranked 23rd in the country in total assists, averaging 17.4 per game. Interestingly enough, one of the 22 teams better is Belmont, whose 20.9 assists per game ranks third in the country.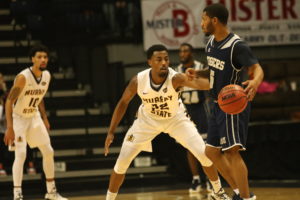 Defense: A
Strengths: Shot-blocking, perimeter defense
Weaknesses: Defensive rebounding
If there's been a calling card for the Racers through their non-conference play, it's resoundingly been their effort on defense. Piggybacking off a stellar defense last season, the Racers haven't lost a step, as they've ranked as high as No. 5 in the country in scoring defense by giving up just 57.3 ppg to opponents.
One area that seems to tell the story of Murray State's defensive success is the team's ability to defend the 3-point shot. Last year's Racer team found themselves among the top teams in this category last season, so it appears their perimeter defensive prowess this year likely reflects a larger trend in McMahon's coaching philosophy that revolves around neutralizing the 3-pointer first and foremost.
Murray State is currently ranked No. 3 in the country in 3-point field goal defense, holding opponents to just 24.9 percent from beyond the arc.
No team other than Auburn (The SEC's best 3-point shooting team) managed to make the Racers pay from deep, and Murray State's remarkable ability to hold talented Missouri Valley teams like Missouri State and SIU to just four triples combined should serve as a powerful testament to how good Murray State can be when they hone in on defending the three.
You thought the Racers only excelled at defending the perimeter? Think again. One of the bigger, and perhaps most underrated aspects of this Murray State team is its aptitude for interior defense. Led by seniors Brion Sanchious and Shaq Buchanan, the Racers currently lead the OVC and are tied for 13th in the country in blocks per game (5.6).
While Sanchious certainly isn't lauded for his offensive talents, he is doing the dirty work on the defensive end and is the spark plug in the starting rotation that allows for all of the highlight plays you see on the other end.
With 13 blocks this year, Sanchious is averaging 1.2 per contest, with Buchanan following shortly behind with an average of 0.9. Keep in mind, all of this is being done without the services of senior forward Anthony Smith, who was averaging more than 1.5 blocks per game before suffering an ankle injury.
These efforts reflect why Murray State holds opponents to just 62.8 ppg, and explain the impressive 9-2 start they've jumped off to.
For all the effort the Racers have undertaken to prevent their opponents from scoring, there is still work to be done. The biggest weakness right now for the Racers is their effort on the defensive glass.
The Racers' top-three leading rebounders are all guards, and while the coaching staff would certainly have no qualms about sharing the rebounding load, it paints a bigger picture of the absence of a productive and consistent post rebounder.
Whether that be the role of junior forward Darnell Cowart or freshman forward KJ Williams, who are each progressively seeing more minutes, I think the Racers need someone to step into that role going forward.
At 26.8 defensive rebounds per game, Murray State is ranked fifth in the OVC in defensive rebounding, and even lower on the offensive rebounding side.
No team is perfect, but even McMahon noted that some of these improvements are imperative in order for his team to grow as they approach their first conference game against Morehead State at 7 p.m. on Thursday, Jan. 3, at the CFSB Center.
"Areas of improvement I think are obvious," McMahon said. "Turnover rate, I think we've made some improvements there, but still room for growth. I think the defensive rebounding is an area we really have to be better at, and then overall execution in all areas of the game."