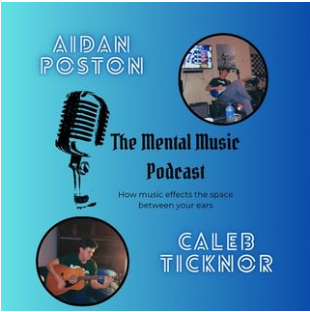 Two Murray States students are exploring the connection between music and the mind with their new podcast "Mental Music."
Aidan Poston, freshman aquatic biology major, and Caleb Ticknor, freshman business administration major, said they had never attempted a podcast before and the decision to start this one was sudden.
"It was a very spur-of-the-moment thing," Ticknor said. "We were in the Makerspace one day and we saw the recording booth. We walked in there like, oh, what's this for?"
A friend of Ticknor and Poston had told them that people would use the booths to record podcasts. Poston and Ticknor said they thought it would be fun to create a podcast about their shared interest in music and how it affects mental well-being.
"The podcast is a way to use music to reach people mentally," Ticknor said. "We get to figure out what makes people tick in the way of music and how it affects the brain."
Ticknor said music has always been a major part of his relationship to mental health, something he's struggled with for most of his life. 
"I had a pretty traumatic childhood and have depression, anxiety and PTSD from those things," Ticknor said. "Music has always been my outlet, my escape from reality. I find it really interesting how music moved me in such a way and now I can find out about other people's struggles and how music helped them too."
Ticknor said he thinks of music as a universal language and has listened to songs in other languages that have moved him emotionally, even though he doesn't know what they're saying. He said he believes people often underestimate the power of music because of how common it is. 
Poston said he is also interested in music's ability to evoke emotion.
"If you're listening to a song and it makes you feel a certain way, I think that's really important," Poston said. "If it can make you feel a very heavily inflicted emotion, that's some good work."
In addition to listening to music, Poston and Ticknor both began playing music within the last year. Poston plays electric and acoustic guitar and Ticknor plays electric and acoustic guitar and keyboard. 
Ticknor and Poston said it has deepened the connection between music and mental health for both of them.
"I really started connecting the dots between music and mental health when I started making it," Ticknor said. "I could just write whatever I was feeling or play however I was feeling and use it almost as a little therapy session."
The podcast features discussions with the hosts and guests. 
Their first guest was a friend of both the hosts, Noah Baker, junior music business major. They rely on people they know to fill the guest spots in this early stage of the podcast. 
Tiknor and Poston said they hope that as the show continues the range of guests will broaden.
"Honestly, it's just whoever wants to come on," Poston said. "We're hoping to branch out to people that we don't know so we can learn about them and get their story out there as well."
Since this is their first attempt at podcasting, the first few episodes have been a learning experience for them. Their first episode, where they discussed their current favorite artists, was completely improvised. As they begin incorporating guests, they have been experimenting with adding structure to the show while maintaining its spontaneity. 
"It's tough to come up with an outline," Poston said. "We scripted out a little bit of what we wanted to do in the second episode. We still went on tangents, but it all works out."
Though it isn't the main focus of the podcast, Poston and Ticknor are both Christians. They discussed how they see the show as an opportunity to talk about their faith as well.
"We like to share the gospel a little in each episode," Ticknor said. "We're both pretty passionate about that, so any way we can do it, we see it as a calling and a mission to do so."
New episodes are released on Fridays and vary between Poston and Ticknor discussing music by themselves as well as discussions with guests. Mental Music is available for listening on Spotify.