High winds cause damage to student vehicles
A strong storm system ripped through the University on March 3, resulting in damage across campus that included visible destruction to student vehicles.
Several vehicles' windows and windshields shattered. All the damaged vehicles were parked in the residential college parking lots.
Winds ranged between 50 and 70 mph, according to the National Weather Service. 
Cheyenne Aaron, a sophomore business administration major, said her vehicle was parked by Hart College. She found out about the damage to her vehicle from a friend. 
"The back glass had been shattered and will cost between $200 and $400 to repair the damage," Aaron said.
Kylie Jo Rouse, a freshman psychology major, was also affected by the storm. 
Rouse said her vehicle was parked in front of Hester College.
"The passenger side window was shattered," Rouse said. "The car next to me, their back windshield got knocked out."
Rouse said she received two calls from the Murray State Police Department, which instructed her to take pictures for her insurance company and cover the window to prevent further damage.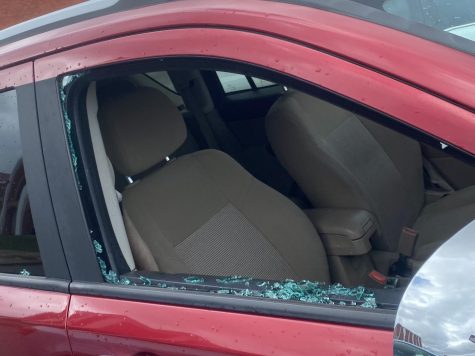 Interim Police Chief Ryan Orr said the department received 11 reports of damaged vehicles.
Some students, including Rouse and Aaron, struggled to receive help from their insurance agencies. Most insurance agencies require photo evidence proving the cause of damage. 
Rouse said there was little to no proof of what specifically broke the vehicle windows.
"There was really no explanation," Rouse said. "People were trying to find reasons to explain to their insurance."
Rouse said she paid for the damage repairs out of pocket since she knew it would take longer to prove to her insurance agency the vehicle was damaged because of the storm. She said after working with Murray Auto Glass, the total cost of repair was around $200.
"It appears either debris from the wind or possible pressure change from the strong wind gusts damaged the vehicle windows," Orr said.
In addition to the damages on the residential side of campus, Orr said minor damage occurred to on-campus buildings, fences and trees and to two light poles off campus.
Orr said the pole damaged by Alexander Hall is owned by BellSouth, a telecommunications company, and runs electricity, which was later disconnected by Murray Electric.
Orr said both Waldrop Street and 16th Street were partially blocked for about six hours, giving the utility companies enough time to replace the poles.
Rouse said she was pleased with the staff and police for their assistance in handling the damaged vehicles.
"I think they did a great job calling us and letting us know," Rouse said. "I don't think there is anything else they could have done."
Orr said the department is prepared for the possibility of future storms.
"Our campus has been certified as Storm Ready by the National Weather Service," Orr said. "We work with the National Weather Service and the county emergency manager to ensure we are staying up to date on training and safety procedures."