*Editors' note: this article discusses sensitive material regarding the Israel-Hamas War. This article is not intended to encourage any negativity or hatred towards the Palestinian people, Jewish people, Muslims or Israeli people. This article's purpose is solely to inform readers about this international issue. 
Militant group Hamas invaded Israel on Oct. 7, with hundreds of gunmen infiltrating communities near the Gaza Strip. Since October, 13,000 casualties have been reported in Gaza, while another 1,200 have been reported in Israel, according to Al Jazeera. But what led to this? 
History of the Land
Following the defeat of the Ottoman Empire, Britain took control of lands between the Jordan River and Mediterranean Sea, lands that are a part of this ongoing dispute. This land was historically inhabited by a Jewish minority and Arab majority, according to the BBC. 
The Balfour Declaration, written in 1917 by former British Foreign Secretary Arthur Balfour, established Palestine as a Jewish state. The declaration was endorsed by the newly-created League of Nations in 1922. Palestine was seen as the ancestral home to Jews, but Palestinian Arabs also claimed the land and opposed the move.
Between the 1920s and 1940s, the number of Jews moving to Palestine grew, with many fleeing from persecution, especially after the Holocaust in World War II. Violence between Jews and Arabs, and against British rule, increased. 
In 1947, the United Nations voted for Palestine to be split into separate Jewish and Arab states, with Jerusalem becoming an international city. In 1948, the British Mandate expired, triggering the first Arab-Israeli war. 
By 1949, Israel won, but 750,000 Palestinians were displaced. The territory was divided into three parts: the State of Israel, the West Bank and the Gaza Strip.
Christine Lindner, associate professor of history at Murray State, said the Arab-Israeli war led to the forced displacement of Palestinians.  
"We start to see more and more of the population, both Jewish and Palestinians, living in this area," Lindner said. "The UN says 'we're gonna divide up the land, but following the declaration of the State of Israel, the war that succeeded it, and then the Nakba [catastrophe in Arabic], we had this movement of people intentionally displaced." 
In 1973, Egypt and Syria led a coordinated attack against Israel, an effort to regain their lost territory. No country received significant gains, but Egypt was able to negotiate over previously lost territory. 
By 1979, following a series of cease-fires and peace negotiations, representatives from Egypt and Israel signed the Camp David Accords, a peace treaty which ended the 30-year conflict between Egypt and Israel. 
The Accords improved relations between Israel and its neighbors. However, the question of Palestinian self-governance remained unresolved.
Zionism and Israel
Zionism is defined as a movement for the protection and development of a Jewish homeland, according to Britannica. The idea was started in Europe by Theodor Herzl, an Austro-Hungarian Jew and journalist. Herzl looked to the Jewish ancestral lands between the Jordan River and Mediterranean Sea. While this movement began in Europe, it eventually led to Palestine. After Chaim Weizmann, Zionist leader, visited Palestine, weekly antisemitic newspapers began spreading in Palestine a year later. 
Later, the heavy persecution of Jews in Germany led to a heavy immigration to Palestine, and Palestinians rioted in protest of the sudden immigration. 
Due to the influx of refugees into Palestine, the United Kingdom sent out White Papers to Palestine to reach a settlement about the number of Jews coming into Palestine. The White Papers discussed a Jewish home inside Palestine, how many Jews would be allowed into the country over a five-year period and property transfer to Jews in Palestine. Palestinians rejected the British legislation due to mistrust, and Zionists were outraged after discovering the proposal. 
Fast forward to 1947, Britain withdrew its rule over Palestine and placed it before the UN. The UN sought to divide Palestine into half a half-Arab, half-Jewish state with Jerusalem as the heart of a UN guardianship. The Deir Yassin massacre took place in April of 1948, when Zionist parliamentary groups murdered numerous Palestinians in a village near Jerusalem. In May 1948, Israel then declared independence after the UK terminated its mandate over Palestine.  
Jerusalem contains around 3,000 years of Jewish archaeological evidence but also contains around 1,300 years of Islamic evidence, according to Scientific American.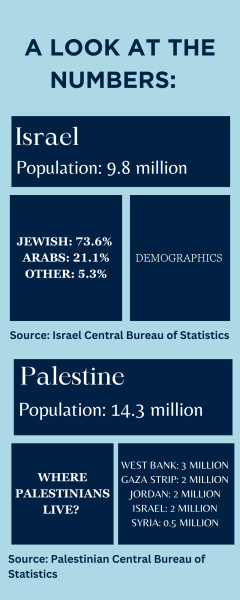 Who is Hamas? 
Hamas, an acronym for Harakat al-Muqwama al-Islamiya, was founded in 1987 by Palestinian refugee Sheikh Ahmed Yassin. It was originally a part of the Muslim Brotherhood in Egypt but outgrew the organization. The organization is considered a major political party alongside Fatah. 
Prior to Hamas' existence, the Palestinian Liberation Organization was organized in 1964 in order to consolidate various Palestinian resistance groups. The PLO prospered after the Six Day War in 1967 and later took part in guerilla warfare against Israel from the 60s to the 80s before joining in peace negotiations in the 90s. 
Two Intifadas, Palestinian uprisings, came to light to "shake off" Israeli occupation in Gaza, East Jerusalem and the West Bank. The first lasted 1987 to 1993 with the signing of the Oslo Accords, a drive to create an independent state for Palestine alongside Israel.   The second lasted 2000 to 2005, when Hamas gained more power within Gaza and Israel completely withdrew from the area. 
 Written in 1988, the Hamas Covenant is the playbook for the extremist Islamic Resistance Movement. The manifesto describes the goals of Hamas, which includes destroying the state of Israel through jihad and the eradication of all Jews. Since winning the election in 2006, Hamas has been in control of the Gaza Strip since 2007. 
Lindner said Hamas did not become politically active until later in its establishment. 
"It's important to remember that Hamas was a militant group that slowly increased its political position as a political party, often through the social services," Lindner said. "They did not participate in earlier elections."
The Foundation for Defense of Democracies reported the UN has yet to declare Hamas as a terrorist organization despite Egypt, the United States, the UK, the European Union and Canada already declaring it as such. While the UN has passed several resolutions calling for the release of hostages and aid to be sent to Gaza, officials have been unable to reach a consensus on labeling the group as a terrorist organization. 
Gaza Strip
Gaza is a narrow strip of land located between Israel and the Mediterranean Sea, with a short border with Egypt. Only 25 miles long and 7 miles wide, it has more than two million inhabitants and is considered one of the most densely populated places on Earth, according to the BBC. Gaza forms the smaller portion of the two Palestinian territories, the other territory being the West Bank. 
After Israel was created in 1948, Egypt controlled Gaza from 1948-1967. Israel captured Gaza and had control for 38 years. The Palestinian Authority was given some governing power in 1994. However, Israel kept a military presence in Gaza until 2005.
Since 2007, Israel has maintained land, air and sea security, which has left a major impact on Palestinians living in Gaza. An NBC article reports Israel maintains this border security to protect Israeli citizens from Hamas. 
As of Oct. 25, 2023, Israel has cut off all supplies to Gaza to prevent Hamas from using humanitarian aid for military operations. 
Present
On Oct. 7, Hamas invaded Israel in the most significant escalation of the Israeli-Palestinian conflict in recent years.
 Hamas militants fired rockets into Israel and stormed Israeli settlement communities across the border of the Gaza Strip. More than 1,300 Israelis were killed, 3,300 injured and hundreds taken hostage. 
On Oct. 8, the Israeli cabinet formally declared war against Hamas and established an emergency government, followed by an order from the defense minister to the Israeli Defense Forces (IDF) to carry out a "complete siege" of Gaza.
The two sides have traded daily rocket fire since Oct. 8.
 Israel ordered more than one million Palestinian civilians in northern Gaza to evacuate ahead of a ground invasion that began on Oct. 28.
 Israeli forces have surrounded Gaza, cutting it off from southern Gaza and cornering Hamas. This move gained criticism from a UN agency that suggested the bombing campaign could be a war crime.
The territory is also desperately low on water, fuel and supplies as Israel has rejected humanitarian pauses as of Nov. 5 and controls the amount of aid that can enter. Meanwhile, Hamas has set on surpluses of goods that could be used to aid Palestinians inside of the Gaza Strip. 
The displacement of more Palestinians presents a problem for Egypt and Jordan. Both countries have accepted thousands of Palestinians in the past but aren't accepting anyone during this current war. 
Negotiations between the United States, Egypt, Israel and Qatar, the latter of which mediates with Hamas, have resulted in 1,100 people exiting Gaza through the Rafah border, as of Nov. 5. 
The other 1.5 million displaced Gazans—70% of its population—have nowhere to go and face increasingly dire living conditions and security risks. 
The Washington Post first reported on Saturday, Nov. 18 that Hamas and Israel are negotiating an agreement on a "U.S.-brokered deal," which would release dozens of women and children held hostage in Gaza in exchange for a five-day cease-fire.