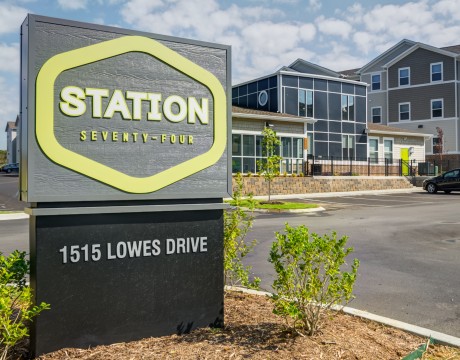 In late July, University Housing provided rentals at Station 74 Apartments as contingency for about 30 upperclassmen previously anticipated to have private rooms in residence halls. 
The change occurred following unprecedented housing reservations among freshmen and continuing students. As of Aug. 15, freshman enrollment numbers approached the all-time record, according to a University press release.
Students living under campus housing in Station 74 are provided with a Resident Advisor and subject to University rules.
Senior Spanish and professional writing major Eve Jacobson, who has lived in Franklin Hall for three years, said she did not know she would live in Station 74 until the end of July.
"They called me and said that they had too many incoming freshmen," Jacobson said. "I was still going to be able to have a room in Franklin; it just wouldn't be the private that they had promised me. So they were like, you can either go to an apartment in Stations or probably just live with a roommate."
Senior geography and GIS major Bec Cahoe received the same call in July.
"They said Murray State, in an effort to solve the problem they consciously created, had bought out a limited number of apartments for seniors living in Regents who had private rooms," Cahoe said. "It was always phrased as a [choice] that we could decline, but it was pretty much implied [that] if we turned it down, a freshman would be roomed with us, so I don't think many did."
Cahoe said the choice was easy given they have their own transportation.
"These apartments are really nice, even marketed as the luxury apartments of Murray," Cahoe said. "We have a private room and bath, a full kitchen and a little more independence, even with the imposition of college court rules and a residential director."
Senior music business major Cyon Sailor said she enjoys the commute from Station 74.
"I've enjoyed… having to drive six minutes to class as opposed to walking 10," Sailor said. "I prefer this."
Sailor had planned on living in a private room in Regents this semester. The apartment cost was the same, which was a "super big selling point" for her.
"I had to clarify, this is the room and board of Regents?" Sailor said. "I get to live in an apartment with all of the amenities for a private Regents room price."
Though Jacobson did not get the room she was promised, she called the apartment a "nice" space.
"I don't mind it," Jacobson said. "It is kind of annoying because I don't have a car, so I kind of just walk everywhere. It's not really something that they would have had to have been worried about, I guess, but it would have been nice to sort of take into account, 'Is this really going to be something convenient for everybody?' especially on such short notice."
Sailor, who had also lived in Franklin Hall for three years prior, said she has enjoyed her living experience so far.
"It's an opportunity to kind of test drive apartment living before I graduate without having to worry about rent and other payments," Sailor said. "All things considered, this is a really nice setup for me."
Jacobson said she thought Franklin was cleaner but that the apartments seemed overall prepared for new residents.
"I know there are some people who moved in and they had cockroaches in their room, but I think most apartments had already been checked for quality and stuff," Jacobson said. "Overall… I think the quality is pretty much the same, or at least similar."
Jacobson said the situation would not have presented as much of an inconvenience if University Housing had given her more notice.
"I'm sure they knew there were going to be more incoming freshmen earlier on," Jacobson said. "They said that if we had someone we wanted to room with to let them know, but I didn't know who else was getting moved into Stations until after that."