When it comes to dining on campus, many students sacrifice healthier eating options for convenience, often in the form of fast food. Making alternative meals can be a struggle when leaving the dorm isn't an option. 
Most students' food creativity vanishes because certain cooking equipment, such as air fryers and hot pots, is not allowed on campus. Most dorm rooms do not have the space to harbor a kitchen's worth of supplies, but a majority of students have the bare minimum: basic utensils, a coffee mug or bowl and a microwave. With these few supplies, you can create all of the recipes below without having to leave your dorm room.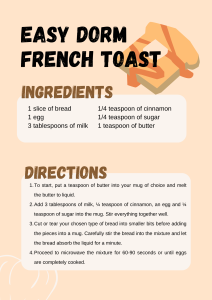 French Toast
French toast has always been an underdog in the breakfast food game; this sugary, cinnamon-covered delight is the perfect way to start or end one's day. No need to venture down to the dorm's kitchen to make this meal because all you'll need is a simple microwave to cook up this treat. 
For this meal, you will need some sliced bread, eggs, milk, cinnamon, sugar and butter to create a mug full of French toast deliciousness in less than 5 minutes.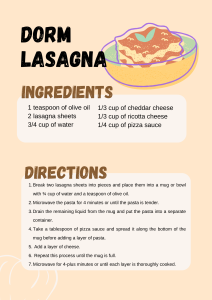 Lasagna
Usually you'd see lasagna made in an oven, but for this single-serving version, all you'll need to recreate that Italian magic is a mug. 
You'll also need pasta lasagna sheets, water, olive oil, pizza sauce, cheddar and ricotta cheese. Not a fan of cheddar or ricotta? Try using cottage cheese instead.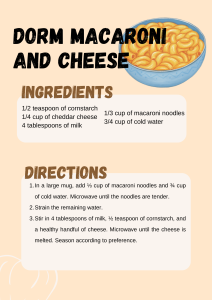 Macaroni and Cheese 
Who doesn't love a good serving of macaroni and cheese? While you can buy boxed macaroni and cheese to microwave, there is nothing better than making your own with real cheese. 
For this favorite, all you'll need is some macaroni noodles, cold water, cheddar cheese, milk and cornstarch.
Scrambled Eggs 
Breakfast is one of the easiest meals to figure out in the dorms. From Pop-Tarts to cereal, students have a wide selection of non-cooking meals. When you find yourself craving something light and warm, however, consider giving this classic meal a try. 
While you can go down the basic scrambled egg route, don't be afraid to mix things up with a variety of vegetables or some cheese. To make scrambled eggs in the microwave, all you need to do is mix the ingredients into a bowl or mug and cook at 30-second intervals. Beat the mixture between time intervals until the eggs are completely cooked and scrambled to perfection. 
Whether you're in the mood for a mug full of macaroni or for a simple breakfast, there are a ton of quick and easy ways to spice up your dorm meals. 
Did you give one of these recipes a try? Let us know by sending us a photo of your dorm-meal creation to the @themurraystatenews Instagram account.