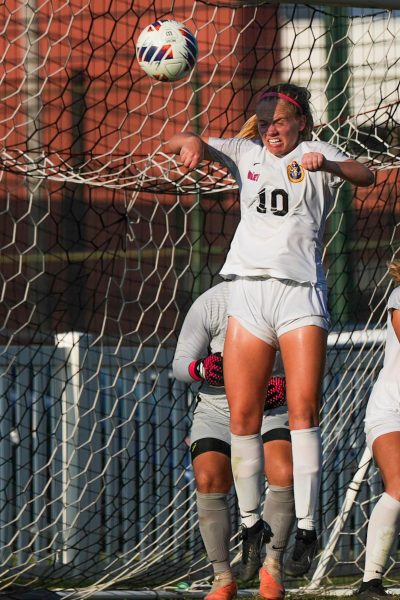 Fans got their tan on as the Murray State Racers and the University of Kentucky Wildcats faced off on Cutchin Field in the Racers' "#FillTheHill" game on Thursday, Aug. 24.
Murray State was 0-2 on the season heading into the matchup, in search of their first win of the young season. 
There were four total shots taken between the two teams in the first period. Three shots belonged to the Wildcats, as the other one was credited to Racers graduate student midfielder Grace Bodker.
The game remained scoreless until the second half, when Kentucky's graduate student forward Jordyn Rhodes scored in the 55th minute. The goal was assisted by senior defender Grace Phillpotts.
The Racers retaliated quickly with a goal of their own. In the 57th minute, Racers sophomore midfielder Mary Hardy hit the top left of the goal to tie the match up at one apiece. 
Kentucky's Rhodes went on to score in the 75th minute after a pass by graduate student forward Maya Lacognato that would give the Wildcats the lead. They held onto the lead until the end of regulation and won the match 2-1.
Both teams received 15 fouls on Thursday. Kentucky finished with five corner kicks, as Murray State finished with two.
Murray State was able to hit the back of the net for the first time this season after Hardy's goal in the second period. Hardy's attempt was the Racer's lone shot on goal in the match. Kentucky recorded five shots on goal in the win.
Racers graduate student goalkeeper Jenna Villacres got the start for the Racers and played 56 minutes, allowing one goal. Villacres had three saves in the match. Freshman goalkeeper Griselda Revolorio came into the game in the second period and played 33 minutes, allowing one goal. 
This home game is the last one before three away games for the Racers. Murray State's next matchup will be on Sunday, Aug. 27 when they travel to play Jackson State University at 1 p.m. Their next home game will be on Sunday, Sept. 10 on "Kid's Day" against Southeast Missouri State University at 1 p.m.