The Racers men's basketball team has a total of eight players on their roster that have transferred in from other schools. One of them who has the potential to have a big impact right away is senior guard Shawn Walker Jr.
Walker played his freshman year at George Washington University, but didn't really hit his stride until he transferred to Mercer, where he has played the past two seasons. His job at Mercer was to score the basketball, and that's exactly what he plans to do for the Racers. 
Walker said his role during his time at Mercer was very similar, if not identical, to the role he will have this upcoming season at MSU.
"There's really not much difference," Walker said. "The role that I have specifically is to guard the best player every night. To be vocal and to be a leader as an older guy. Also, to put the ball in the basket."
This past season with Mercer, Walker started in all 32 games with 12 double-figure scoring games, averaging 8.5 points per game. He also scored a career-high 23 points behind a career-best nine field goals made against Milligan, while also making a career-high five 3-point baskets. 
The most impressive aspect of Walker's offensive game is his impressive shooting percentages. Last year, he shot 43.7% from the field and 39.8% from long-range, which ranked him sixth in the Southern Conference in three-point field goal percentage.
Walker's efficient shooting could help the Racers tremendously, as they were mediocre in that area this past season. They finished seventh in the Missouri Valley Conference in both field goal percentage and three-point percentage. Despite that, the Racers finished in the top half of the conference in points per game. If the Racers are able to pick up their percentages, they could make the jump to the very top of that list. Walker could be a big part of that.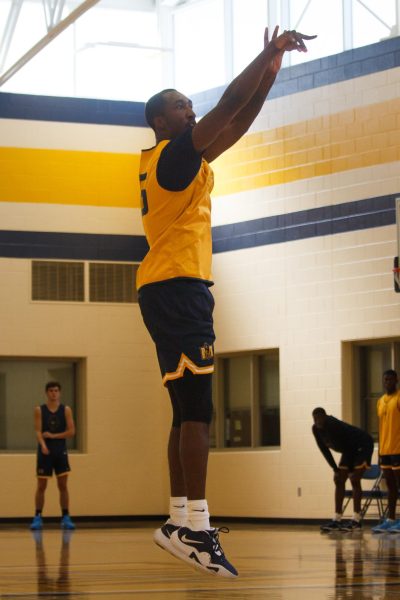 Walker also takes pride in his talent on the defensive side of the ball and wants to be the guy to lock down the other team's best scorer each night. Last year, the Racers finished second to last in the MVC in steals per game and seventh in opponent field goal percentage. The versatility Walker brings could help the Racers with their defense and serve as one of the key pieces to yet another historic season for the Racers.
Murray State has a long and success-filled history with a fair share of stars. The Racers have won the regular season conference championship a very impressive 31 times and the conference tournament championship 18 times. This upcoming season's goal is the same that it has always been: to add on to the already impressive history of Murray State men's basketball.
"I chose Murray State for the rich history and because of the support system," Walker said. "Of course, you have got so many good players that have come out of here and have played afterwards. For me, that was one of the big things."
Walker and the rest of the Racers are looking to make noise in their second season in the MVC after finishing with a solid 11-9 record in the conference last season. The team will look to disprove their number seven spot in the MVC preseason poll. Instead of being down on themselves as a result of this ranking, the team seems to be using it as fuel.
"We certainly expect not to end up where we were picked at," Walker said. "I think that the expectation for us is to finish top three in the league, and top four defensively, because I think that we have improved there tremendously from last year to this year. And of course, we want to win a championship like everybody else, and we set that expectation there."
Walker can provide so many different things for the Racers. If he is able to impact the game effectively this upcoming year, a top-three finish and maybe even a conference championship could be in the team's future.